September 03, 2004
brands are tedious, purpose is good
Since we're thinking a bit about brand image, I'd like to point out that this hugh macleod cartoon packs a lot of truth into a small space: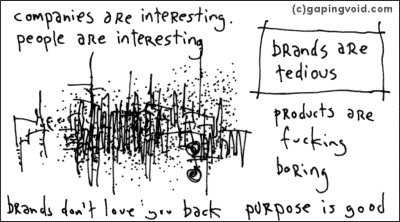 Brand love may be well and good, but truly, brands don't love you back.
Anyway, so Hugh's got a good rant going, which he calls the Hughtrain (heh), in which he shouts: "THE MARKET FOR SOMETHING TO BELIEVE IN IS INFINITE." Well worth reading, so what are you waiting for? Stop screwing around on this boring site and go read something intelligent!
[via Ben Hammersley]
Posted by Gene at September 3, 2004 12:05 AM | TrackBack