August 23, 2003
Eagles in San Jose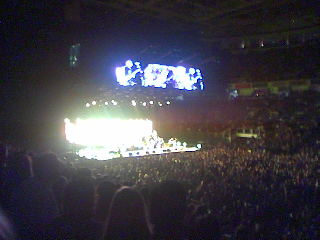 (annoying infomercial) - The Long Run - New Kid In Town - Wasted Time - Peaceful Easy Feeling - Hole in the World - Love Will Keep Us Alive - The Boys of Summer - Take it to the Limit - Already Gone - (Joe Walsh 4 governor) - In the City - One of These Nights - break - James Dean - Lyin' Eyes - I Can't Tell You Why - Walk Away - Tequila Sunrise - Sunset Grill - Turn To Stone - You Belong To The City - Life's
Been Good - Dirty Laundry - Funk #49 - Heartache Tonight - Life in the Fast Lane - encore: Hotel California - encore2: Rocky Mountain Wave - ???
Well then, a good time was definitely had in San Jose last night! As you can tell from the photo we were not very close, and the Nokia-cam leaves a bit to be desired in these situations :-P But it was still a ton o' fun. The boys hit the stage around 8:20 or so. The first few numbers were pretty laid back, they were just mailin' it in. Then they finally found their groove somewhere in the middle of Peaceful, and the new 9/11 tribute Hole in the World was soulful and deep. Timothy B. Schmit's vocals on Love Will Keep Us Alive were sweet, oh yes. It was certainly great to see the band together, on the road and in good spirits, but I have to say the show was carried by Joe Walsh's songs and still-raunchy/tasty guitar work. Turn To Stone and Rocky Mountain Wave were truly the highlights for me. We had to leave a bit before the end, so I'm not sure if they did anything after RMW, perhaps a little Desperado? All in all, an excellent night of greatest hits from end to end.
Posted by Gene at August 23, 2003 05:07 PM | TrackBack